What's The Single Biggest Factor When Driving Paid Traffic?
YOUR LANDING PAGE
Our Proven To Convert, Industry Specific Landing Pages & Thank You Pages
Have been Speed Optimized, Tested and Proven To Outperform Your Current Website Conversion Rate and if they don't…It's Free!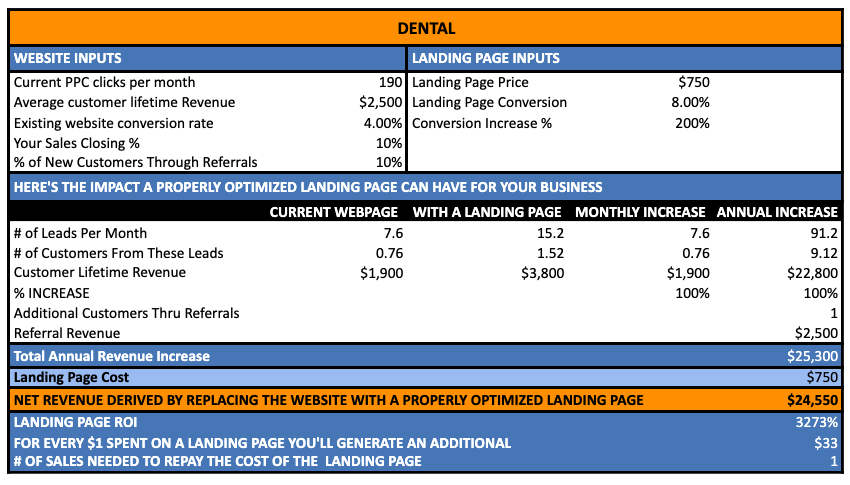 Our Simple 3 Step Process To Get Started

PURCHASE YOUR TEMPLATE
Select The Template That Fits Your Business Type and Complete Your Payment
CUSTOMIZATION
Submit Your Business Information and Logo and Our US Based Design Team Will Create Your Custom Landing Page and Thank You Page Based Upon Our Proven-To-Convert Industry Template. 
DEPLOYMENT
Our Design Team Will Deploy Your Landing Page And Thank You Page On A Sub Directory or Sub Folder
Here's What You Get When You Get Started Today
Guarantee (if applicable)
1 Round of Edits (20 min)
Why A Landing Page?
A well optimized landing page is proven to increase website conversions, which in turn, lowers your Cost Per Click (CPA).
It often pays for itself within the first month.
What A Landing Page Does:
– It's designed to convert a visitor into a lead (call or form fill)
– It's THE destination where you want your visitors to arrive after clicking on your ad
– It's free from the other distractions a website normally contains (like a navigation bar and list of services)
– It allows your ad copy to be extremely targeted
– It loads fast (under 3 seconds)
– It looks great on a mobile phone
– It's ADA Accessibility Compliant
– It contains Testimonials
– It Has a prominent, clickable Phone Number
– It Connects to a Coordinated, Personalized Thank You Page
– It Properly compresses images For Optimum Performance
– It Has A Prominent, Benefit- Focused Headline
– It Contains a clear and stand out call to action
We Design For Mobile
Your custom landing page and thank you page are designed to look great and provide an optimal experience for mobile phone users, regardless of whether they click to call or complete your form. 
Your Landing Page Works Everywhere.
Your properly optimized Landing Page is built to provide a best in class user experience, regardless of the device they use (desktop, mobile or tablet).
At the same time, the construction of landing and thank you pages, meet or exceed google's most current specifications, helping to make your advertising more efficient and lower your ad costs.
Our Proprietary
Process & Workflow.
We use industry specific landing page templates which have been proven to out perform conventional websites by a factor of 5x. 
By customizing our templates to match your business's branding and marketing, we're able to lower our costs, while keeping the optimization elements in tact. This allows us to provide landing and thank you pages in hours, rather than days at a fraction of the time of standard web development.
Conversion Optimized
In hac habitasse platea dictumst. Vivamus adipiscing.
Custom Branded
In hac habitasse platea dictumst. Vivamus adipiscing.
A Round of Modifications
In hac habitasse platea dictumst. Vivamus adipiscing.
Deployment
In hac habitasse platea dictumst. Vivamus adipiscing.
Let's Work Together
In hac habitasse platea dictumst. Vivamus adipiscing fermentum quam volutpat aliquam. Integer et elit eget elit facilisis tristique.